Create a Dropship Account
A Dropship account is great if you sell on your own website or feature our products in your catalogue. Remember, as an 'authorised distributor only manufacturer' we do not sell directly on any other web site such as eBay or Amazon. The market is yours so get started today!

What is a Dropship Account?
A Dropship account allows you to purchase products at a reseller discount and specify your own company as the shipper. Please note: your discount will appear at checkout. You do not need to handle the product at all - you simply sell our products and when you receive an order from a customer simply place a reciprocal order on us using your Dropship account. Your client will not see that the order has been shipped from our warehouse or indeed from our company. You, 'as a valued Dropshipper' are protected. Your order will clearly state YOU as the shipper and only the Packing Slip will be included with the order.

How to Start?
Our staff will need to check some details on your account application. It is important to make sure your account application is complete and no information is missing.

How will the Packing Slip look?
Your Packing Slip will look exactly like the example below. It will be included with an Envelope Enclosed document holder on the outside of the package! We will not include any other paperwork within the package.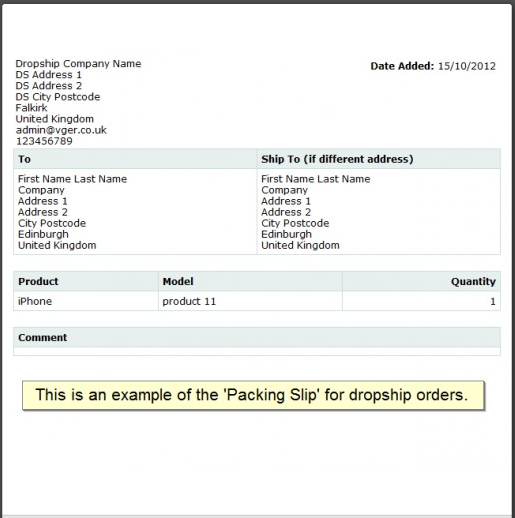 How do I activate my Dropship Account?
If you already have an account then simply drop us a message on our contact form with your account name and we will activate your existing account as a 'Dropship' account. It does not change other features and you will continue to use your account in the usual way. We will message you when the drop ship account feature has been activated.

What products are included as a Dropship?
All products are included.

How do I get started?
Create an account here if you have not already done so.
Send us a message using our Contact Form in order that we can evaluate your request.