DigiSender XDS 4K PRO with LIVE OS
Brand: DigiSender
Product Code: DGXDS4KL
Availability: In Stock
The DigiSender SmartMedia 4KL is the worlds first true 4K media player capable of playing YouTube 4K video content and doubles as a Professional LIVE Broadcaster utilising embedded services from our Easylife Broadcast Streaming Live service
The DigiSender SmartMedia 4KL is a fast media player, choose the inclusion of the XDS LIVE OS functions to create Studio Linking Broadcast Services, forthcoming interfaces to Facebook Live and YouTube as well as many others. It is great for all your media needs including access to Google's Play store. Get instant access to global Catch up TV, Live TV and Internet radio. Watch videos and films, or catch up on something you've missed, using popular online streaming services such as BBC iPlayer Global, YouTube, Netflix and many more. Play music through your TV, whether it is stored on your DigiSenderTV™ device or on an SD card. Upload up to 20,000 songs to the cloud and listen to them any time by using Google Play Music or choose from the many apps available in the market today. Synchronise with any other android device. Keep in touch with friends and family with Skype and other communication apps.

All DigiSenderTV™ products features our latest and most stable version of Google's Android operating system. Building on the things people love most about Android - easy multitasking, rich notifications, customizable home screens, and deep interactivity. As if that wasn't enough, the SmartMedia™ also provides access to over 50,000 online and FM radio stations from around the globe and 100,000's of apps and games from the Google Play store.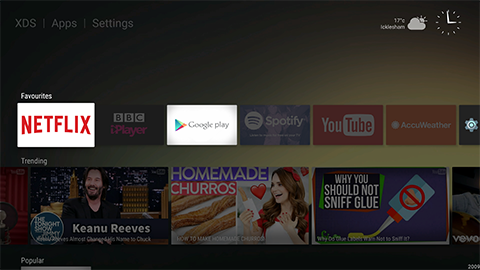 STANDARD FEATURES INCLUDED WITH ALL OPTIONS
UK Compiled firmware
Internet support available to all
4K UHD video resolution out
Supports playback of H.265 4K@60fps, VP9 & 4KP60 for Youtube 4K
Supports Bluray Disc ISO image playback
Supports Miracast and Intel Wireless Display
Supports 7.1 audio pass through
Supports Dolby True HD, DTS-HD MA, LPCM, Dolby Digital +
Miracast and Intel Wireless Display
Do all the usual things like surf the net, check your emails, news and weather
Connect with friends and family via your favourite social networking and communication apps.
Watch videos, films, or catch up on something using online streaming services such as BBC iPlayer, YouTube, etc.
Play music stored on an SD card, through your TV.

Upload up to 20,000 songs to the cloud and listen to them any time by using Google Play Music.
Access over 50,000 online and FM radio stations from around the globe.
Access to the android play store
DigiSender XDS LIVE OS is an optional premium feature that enables you to control your Video & Audio sources whilst you broadcast LIVE to your audience on Social Media, Embedded on your own web page or made available for public viewing at easylife.tv, features under development that come as standard and automatically added as we develop new features and functions in the future. Allows you to preview your video sources such as HDMI, USB as well as monitor your audio level output prior to and during broadcasting. It is compatible with HDMI 1080p Cameras, USB Cameras, Line-in audio and Bluetooth audio. You have the flexibility to add various sources and view and adjust the sources before you start broadcasting. During broadcasts you can switch video sources and maintain a connection to your chosen audio source ensuring your viewers receive the best possible presentation
DigiSender XDS LIVE OS is launched via conventional apps on your desktop but is intrinsically linked to our servers for privileged access to premium services. Our unique broadcast streaming technology means that you need only a 1Mbps internet upload speed for 1080p Studio Linking Services or a 3 to 5Mbps internet upload speed to distribute 720p live video content to unlimited viewers in a way you choose.

(Looking for 1080 to 8K broadcast performance?, then look out for our DigiSender XDS LIVE OS PRO with 16 to 64 Core processors - reach out to us via our contact form for updates or message us now on Facebook and discuss your requirements directly with our engineers)
DigiSender XDS LIVE OS Features:
Create a real-time Studio to Studio HDMI linking service for professional broadcast services
Broadcast your own video files to a web page using embed code with unlimited viewers
Broadcast your own radio channel with still image or live camera feed
Broadcast live CCTV camera feeds to a public audience on your own website or to our public service athttps://easylife.tv
Get automatic upgrades in the future to allow broadcasting to Social Media sites
Capture HDMI IN sources and record in resolutions up to 1080 (theoretically 4K but under development)
Auto stream scaling to suit your broadband
Specifications:
OS: Android 6.0 DigiSender XDS LIVE OS
Processor: Quad-Core ARM Cortex® A53
GPU:

Mali 820 (Octa-Core Mali-800)
650MHz
3D graphics acceleration 400Mtri/s, 2.6Gpix/s
4x Multi-Sampling Anti-Aliasing (MSAA)
Full legacy 2D/3D graphics
OpenGL® ES 1.1, 2.0, 3.1, 3.2
OpenCL™ 1.1, 1.2 Full Profile
DirectX® 11 FL9_3
Vulkan 1.0

Memory: 2GB DDR4 RAM
Built-in Storage: 16GB eMMC
Networking: WiFi: 2.4/5.8GHz Dual-Band 802.11 ac, WPS, LAN: Gigabit Ethernet, Bluetooth4.0
Connectivity: HDMI 2.0 input, HDMI 2.0 output, S/PDIF optical audio, AV & RST, Ethernet (RJ45), USB3.0 Type C, USB2.0 x2, SATA3.0, SD Card, Wifi-Direct, MiraCast, Open-DRT
Bluetooth: Version 4.0
Power: DC 12V 2.5A
Dimensions: W: 200mm, L: 143mm, H: 55mm
Weight: 1.8kg
Hard drive: Not Included - Supports up to 8TB
Studio Link: Requires the purchase of two units with XDS LIVE OS included
Kit contents:
1 x Main Console
1 x Control
1 x HDMI Cable
1 x Power Adaptor
1 x User Manual
Apps included:
XDS Guide VIP
XDS Studio Broadcaster
XDS Studio Receiver
XDS Streamer
XDS TV File Manager
HDMI Record
Chrome
Firefox
Play Store
Netflix
YouTube
Skype
Email
Clock
FURTHER READING
Related Links:
User Interface: DigiSender LIVE OS
DigiSender LIVE Pro for Facebook:http://digisender.com/DigiSender-LIVE-OS/Facebook-LIVE-Pro
Easylife Broadcast Streaming Services - Forms the functional heart of all DigiSender XDS LIVE products:https://easylife.com/


Facebook Pages:
Easylifehttps://www.facebook.com/easylifechat/
DigiSender LIVE for Facebookhttps://www.facebook.com/DigiSenderLIVE/
DigiSender TVhttps://www.facebook.com/DigiSenderTV/


Blog:
Easylife - http://easylifecctv.blogspot.co.uk/

Returns Policy:

Returns accepted within 7 days if you are not satified with the product in any way. View Details.

Dispatch Time:

We promise to dispatch within 3 working days or your money back. View Details.