DigiSender HDMI Real-Time Streamer
Brand: DigiSender
Product Code: DG4KF-EH-HD
Availability: In Stock
DigiSender HD net injector is revolutionary new real-time broadcast quality Streamer which creates an instant HDMI distribution system over your exiting LAN network. It allows you to add high quality broadcast video and audio services to your local LAN for viewing using
a receiver or within broadcast services provided at easylife.com
You can add up to 16 HDMI sources to your existing Ethernet cable network. These sources can be accessed using any number of receivers. Simply connect a receiver to your network and select which transmitter you wish to receive from and the source will be displayed on the connecting monitor.
Use the HDMI Network Injector Transmitter with any of our Apps or Network video products offered by AEI. Compatible with Easylife Pro CCTV System and DigiSender LIVE Pro for Facebook.
Each transmitter features a switch bank that enables you to set an ID code which can be between 1 & 16. The receiver can then be adjusted to select the source you wish to display.
You have several options available that enable you to display the source:

1. Watch the source on a monitor with a direct Ethernet connection between the Transmitter and Receiver.

2. Display the source on multiple monitors simply by using additional HDMI Split-T receivers.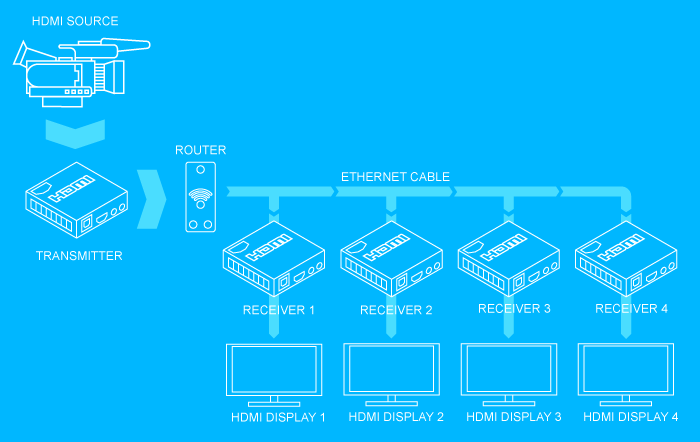 3. Display the source within our highly integrated iMedia Signage Generators. and add weather, time and news ticker feeds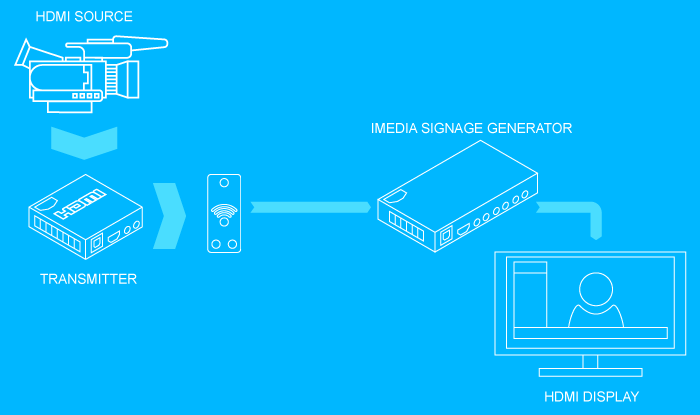 4. Add 4 x HDMI Sources to your network and Broadcast to Facebook LIVE using our DigiSender LIVE Pro service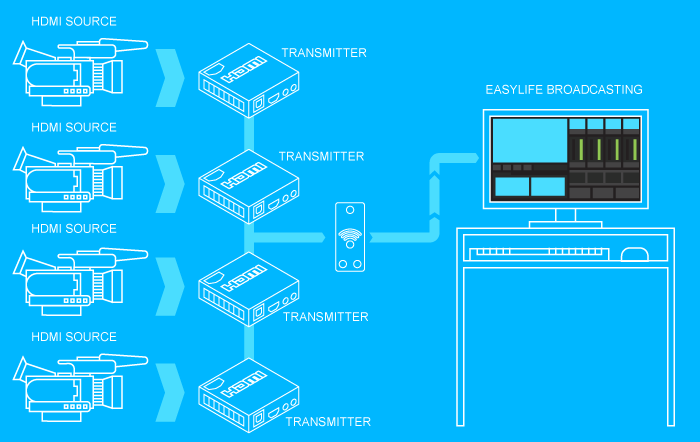 You may be familiar with HDMI over Ethernet as a point-to-point solution which is common practice but this system is cascade-able allowing the HDMI to be split (or forked) using standard Ethernet hubs, or even added to an existing LAN network. It means that you can Broadcast HDMI over your local LAN and receive the broadcast on any number of receivers. It acts as a HDMI Broadcaster as well as a splitter.
Start with a HDMI-SPLIT-T Extender at the source end and a
HDMI-SPLIT-T
Receiver at the display. A single cable between the two and your job is complete. Or you can add up to a mind-blowing 253
HDMI-SPLIT-T
Receivers to your Ethernet cable network. This means as an installer, if your client asks you to add further displays all displaying the same source provided they are looking for no more than 253 you do not need to sweat. As a bonus it works over existing LAN networks which means that for many applications existing LAN cable infrastructure can be used and you retain all the configuration of your existing LAN network. It is designed specifically for television, CCTV and highly integrated digital signage display networks. If you use just one broadcaster HDMI-SPLIT-T Transmitter the broadcast can be integrated with our digital signage products to provide an unprecedented level of flexibility.
Because it uses standard Cat5/5e/6 Ethernet LAN Cable or existing LAN infrastructures you can create a modular
world beating network of display devices. With stunning HD1080 & 4K UHD Options picture quality and rock solid performance compares only with our formidable fibre optic series. Create
unsurpassed ultra high-definition performance but if you are looking for greater distances see our revolutionary DigiSender Fibre Optic series which provides truly amazing performance at 4K with any range. See Fibre Series.
Remember, DigiSender has network growth in-mind, our modular and quick deployment approach allows for the system to be enhanced to create greater display complexities, split or further enhance your network. This concept means your network is ready for future enhancements and as an installer you may well find you are operating in familiar territory.

How it works:
The transmitter broadcasts the HDMI video source over your local LAN. You can also use as many receivers as you want on the same network. It only consumes one video/audio payload of your network bandwidth and will not burden your network with multiple streams as you add more receivers. It also means that the number of receivers is limited only by the available IP addresses so if you are using an existing network that has computers and printers operating then the total number of issued IP addresses cannot exceed 255. Therefore, the max number of receivers you can use on any one network is limited only by the number of available IP addresses.
Features
Transmit individual HDMI video sources over existing Ethernet LAN infrastructures

Inject into your network a maximum of 16 Full HD Video Sources

Add any number on Receivers up to a maximum of 228

Each unit is allocated an IP address from your router which sets the maximum limit of 255 devices

Injected HDMI sources are compatible with all Apps from AEI including:
Split-T Pro Receivers

DigiSender LIVE OS for Facebook - allows you to broadcast HDMI Sources LIVE to Facebook

Easylife Pro CCTV - Use HDMI sources for CCTV Camera devices

https://easylife.com

Easylife.com HDMI over Internet - Broadcast HDMI Sources in a peer to peer environment anywhere on the net

Easylife.com Broadcast Live to Facebook from your desktop https://easylife.com/broadcast-live

iMedia Interactive Digital Signage - Add a HDMI Source to weather and news tickers


Supports video resolutions up to 1920 x 1080@30Hz (FHD)




Supports 3D video content and 7.1 PCM audio




Compliant with HDMI 1.4 and HDCP 1.2 standards

Built-in Unidirectional IR Remote Relay

High compatibility, can auto-match source and display device




Built-in automatic adjustment keeps the video smooth, clear and stable




10-bit digital video encoding and uncompressed transmission technology




Built-in ESD protection system




Plug and play; no software drivers required

Zero latency real time performance regardless of range

Mac cable distance from router to Split-T devices 120m max
SPECIFICATIONS
Transmitter Inputs: 1x HDMI 1.4
Receiver Outputs: 1x HDMI 1.4
Typical payload capacity: 480/60, 576/60, 720/60, 1080/50/60Hz
Remote Control Compatibility: RC5, RC6
IP Protocol
HDCP: Compliant
Latency: 0ms (Typical)
Audio Bandwidth: 20Hz-22KHz (-3dB)
Maximum number of HDMI transmitters 16
Network Saturation
255 allocated IP Addresses
Data Payload 16 Transmitters on one network
Antenna: not applicable
Range: 120m (Max Cable Distance from router to each unit)
Power Supplies: 5V DC 1.0A
Dimensions: L: 190mm, W: 140mm, H: 35mm
Weight: 0.22Kg
Ambient operating temp: 0

°

- 60

°

C
KIT CONTENTS
1x DigiSender HDMI Transmitter
1x DigiSender HDMI Receiver
1x IR Systeme Technik Remote Relay Kit
2x HDMI Cables
2x Power Supply Adaptors
1x User Guide
KIT CONTENTS FOR INDIVIDUAL UNITS
1x DigiSender HDMI Transmitter or Receiver
1x IR Systeme Technik Remote Relay Kit
1x HDMI Cable
1x Power Supply Adaptors
1x User Guide
Returns Policy:
Returns accepted within 7 days if you are not satified with the product in any way. View Details.

Dispatch Time:
We promise to dispatch within 3 working days or your money back. View Details.