DigiSender XDS 4K - UHD Video Sender + SuperSmart Media (DGXDS11X2)
Product Code:

DGXDS11X2

Availability:

In Stock
NEW FOR 2019 - Now includes FREE cloud server support for faster connections!

The DigiSender XDS 4K is a combined 4K Ultra High Definition WiFi HDMI video sender and Android set-top box system. It will transmit any HDMI source such as a satellite receiver or DVD player in extremely high definition.

It also provides both TVs with SUPERSMART TV capabilities, with over 500 TV Channels and over 50,000 radio stations available at the click of a button. This includes Ultra High Definition 4K services from Youtube, Netflix, Filmbox and sports services such as Red Bull TV and and so on. As more and more services come online we have built in some very important features that mean the next generation of High Definition services will already be at your fingertips.
Connect with friends and family using your favourite social networking apps such as Facebook, twitter or Google+. Instant message, talk or video call using apps such as Skype or Viber. Send emails, surf the net and much, much more.
Customise the units by adding apps available from the Google play store or download and play the latest games.

How it works
When you connect the XDS 4K to your local Internet service you are then asked to create a secure account. This account is what you use to access your services on any machine using Chrome and by simply visiting our access site at https://easylife.com . The devices presence is registered on our servers via a secure connection and uses Real Time Communications (RTC) protocols.
When a second connection is made to your service a direct peer to peer video and audio connection is made. This means that the streams do not pass through a central server but your service remains totally secure as it remains within a 128bit encryption service and only accessed via your account.
Real-Time Communications (RTC) provides us with high-quality applications which we have developed for the browser, mobile platforms, and Internet of Things (IoT) devices, and then allows them all to communicate securely via a common set of protocols. This initiative is a project supported by AEI, Google, Mozilla and Opera, amongst others. It receives regular updates automatically and without the need for any down-time, restarts of other human intervention.
If you make a connection between two XDS consoles over the Internet (each using different Internet services), your bandwidth will automatically determine the picture quality. A fast broadband service can in theory achieve 4K Ultra High Definition quality. A connection between two XDS consoles which exist on the same WiFi network will not pass the streams over the Internet and the stream connections will remain on your local LAN thus reducing latency and enabling the best possible picture and sound quality. This is sometimes referred to as machine-to-machine (M2M).
Our RTC and M2M technology does not require any special settings on routers or firewalls. Your network can remain fully secure and any Firewall protection can remain in force and you will not be prompted to open ports or other such requests which can compromise your network.
FEATURES
Transmits any HDMI source such as Satellite or DVD to another TV.
Transmits in 4K Ultra High Definition.
Remote Relay allows you to control channels at the second TV.
Each box can be set to either transmit or receive, so there is no need to swap the units if you want to send a HDMI source the other way.
Upgrades both TV's to SUPERSMART with DigiSenderTV mode.
DigiSenderTV mode adds 100's of extra TV and Radio Services.
Provides Internet based UHD 4K TV services.
Access to over a million apps and games on the Google Play store.
Connect to your mobile or tablet via BT 4.0, Miracast or DLNA.
Includes two wireless QWERTY remote controls for controlling the DigiSenderTV user interface.
Retail Radio, Operate your own radio station and playback automatically on box start. We provide all the cloud based tools to start your own professional radio station

DigiSender XDS LIVE OS is an optional premium feature that enables you to control your Video & Audio sources whilst you broadcast LIVE to your audience on Social Media, Embedded on your own web page or made available for public viewing at easylife.tv, features under development that come as standard and automatically added as we develop new features and functions in the future. Allows you to preview your video sources such as HDMI, USB as well as monitor your audio level output prior to and during broadcasting. It is compatible with HDMI 1080p Cameras, USB Cameras, Line-in audio and BT audio. You have the flexibility to add various sources and view and adjust the sources before you start broadcasting. During broadcasts you can switch video sources and maintain a connection to your chosen audio source ensuring your viewers receive the best possible presentation
DigiSender XDS LIVE OS is launched via conventional apps on your desktop but is intrinsically linked to our servers for privileged access to premium services. Our unique broadcast streaming technology means that you need only a 1Mbps internet upload speed for 1080p Studio Linking Services or a 3 to 5Mbps internet upload speed to distribute 720p live video content to unlimited viewers in a way you choose.
Apps Included
XDS Suite including; Broadcaster, Receiver and Streamer
Google Suite Including; PlayStore, Drive, Mail and Youtube
And your Favourite Entertainment Apps; Netflix, BBC iPlayer, Hulu and Spotify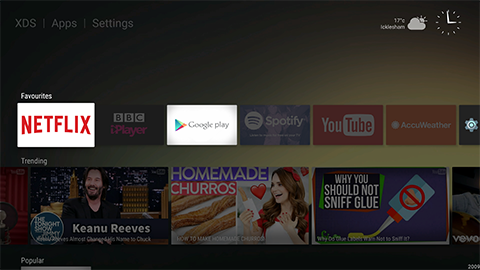 DigiSender XDS LIVE OS Features:
Create a real-time Studio to Studio HDMI linking service for professional broadcast services
Broadcast your own video files to a web page using embed code with unlimited viewers
Broadcast your own radio channel with still image or live camera feed
Broadcast live CCTV camera feeds to a public audience on your own website or to our public service at https://easylife.tv
Get automatic upgrades in the future to allow broadcasting to Social Media sites
Capture HDMI IN sources and record in resolutions up to 1080 (theoretically 4K but under development)
Auto stream scaling to suit your broadband
SPECIFICATIONS
Operating System: Android
CPU: 1.8GHz Quad-Core ARM Cortex-A17
GPU: Quad-Core T764
Memory: 2GB DDR3 SDRAM
Internal Storage: 8GB NAND Flash (4GB System & 4GB User Approx)
External Storage: MicroSD (32GB max.)
Networking:

WiFi - Dual-band (2.4GHz/5.8GHz) 802.11 b/g/n/ac
LAN - 100/1000Mbit/s
BT - 4.0
Other - Miracast/Wireless Display, DLNA, NFC

Interface:

HDMI Input - 1x HDMI2.0 (1080p/60Hz max. input)
HDMI Output - 1x HDMI2.0 (4K max. output)
AV Output - 1x 3.5mm AV Jack
Audio Output - 1x S/PDIF (optical)
USB - 3x USB2.0 Host, 1x Micro USB2.0 OTG
Card Reader - MicroSD
Network Port - 1x RJ45

Power: DC 5V/2A
KIT CONTENTS
2x DigiSender XDS 4K Transceivers
2x Remote Control (Optional 2.4GHz Wireless QWERTY Remote Control)
2x HDMI Cables
2x Power Supply Adaptors
1x User Guide
Tags: DigiSender, XDS, 4K, UHD, Video, Sender, Set-Top, Box, System, DGXDS11X2